Drew Barrymore Gave a Sneak Peek into Her Kitchen Redo, and the Colors Are Everything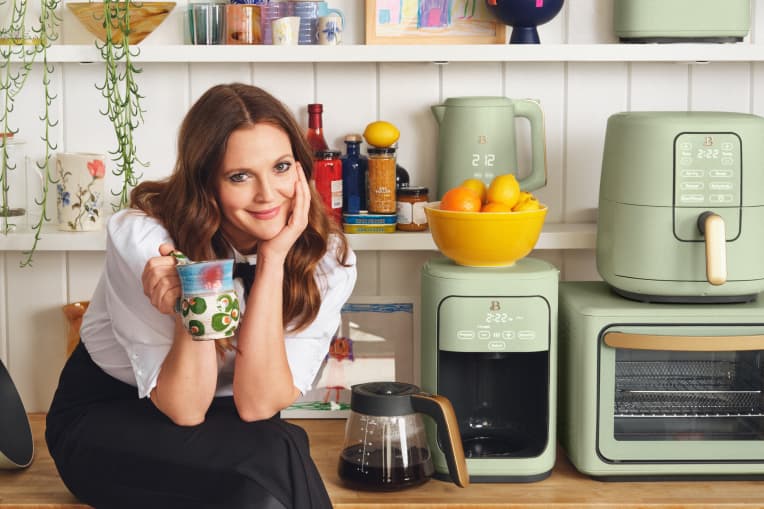 Actress, talk show host, beauty mogul, and interior designer extraordinaire Drew Barrymore, is currently in the throes of a kitchen redo. She's taking her former monochromatic wood-toned space into a new era filled with color, and she just gave her followers a sneak peek at her design process.
"I wanted to talk you through the kitchen renovation that I'm doing because I am the lead designer," Barrymore said in an August 14 Instagram video, joking that if the final product "comes out crap," she can only blame herself. "What I'm trying to do is add different layers of color."
As of right now, Barrymore's upper cabinets and walls have been painted a dark green shade from her FLOWER Paint line called "Palm Leaf Green," and her lower cabinetry is done in FLOWER Paint's "Toasted Almond" — she also plans to paint her ceilings Toasted Almond, too.
She'll be adding in brass accents, as well, including brass curtain rods and brass rods below the window for vegetable storage and hanging dried herbs from.
In her Instagram video, Barrymore also gave viewers a few tips on how they can use an iPad to help them visualize a final design. "What I want to suggest to people is take pictures and get your little pen out…and then draw so that you can almost make your own plans." She said this way of designing helps you keep within your scale and better see how things are going to look when the final design is complete.
"It's such a great way to communicate with people because you can say, 'This is exactly what I'm thinking,'" she said. "So, it leaves less to the imagination and accidental interpretation."
Give Drew her own interior design show now, please.