Before and After: This Blah Bedroom Breaks Free of Beige with a Fresh Tropical-Inspired Redo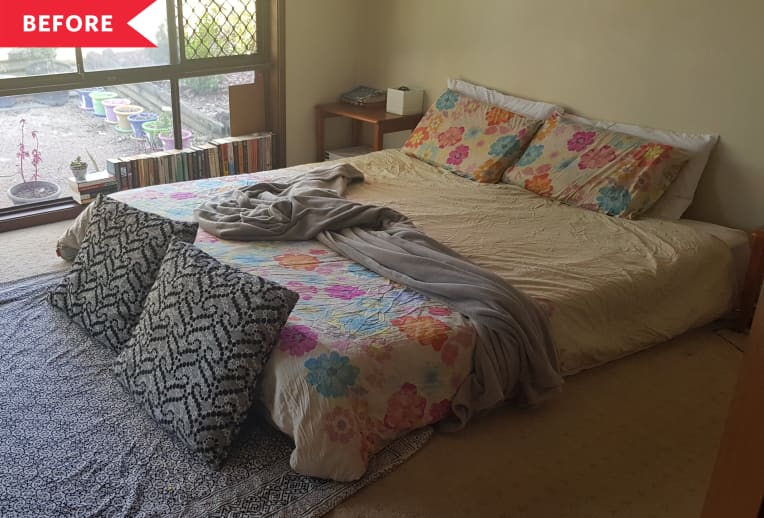 Moving to a new place is expensive, especially when you're buying that new place. After spending that much money, it's common for aesthetic projects to take a backseat for a while. Sidrah Hammad (@thepoorsophisticate) can relate — after she bought her first home three years ago, "we had no budget to decorate," she says. So a plain mattress on the floor was her bed for that time. "I would simply change bedding to make myself happy," she says.
"It took three years to get to the bedroom but it was definitely worth the wait," Sidrah says. The bedroom features a large floor-to-ceiling window that has a view of the front yard, so it was full of potential — it just needed a bit of color to bring it to life.
Sidrah started by painting the whole bedroom crisp white, which made it feel brighter and cleaner. She decided on a feature wall behind the bed, and used a color wash technique to create a soft mottled effect in a pretty peachy-pink.
The biggest change, however, was the new velvet upholstered bed — the major splurge of the project, and the focal point in the room. The deep green pops against the pink wall, giving the room a little touch of vacation vibes, Sidrah says. She doubled down with live plants, which give the room a hint of the tropics, and some new artwork in complementary bright tones.
Sidrah finished her bedroom redo in two weeks for $2,500 AUD (about $1,866 American). The project showed her that small tweaks can make a big impact, she says. "You can never go wrong with the power of paint this room makeover is an example that you don't need a lot of skill to take on a DIY project," Sidrah says. "All you need is the passion, some paint tutorials and your creativity."