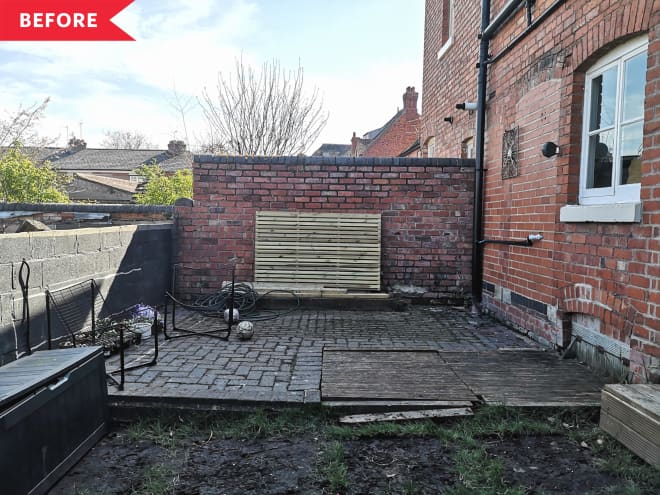 This DIYer shows off some smart ideas for hiding weird design quirks.
With February almost behind us and March on the horizon, it's time to start thinking about spring projects — specifically, projects that will help you make the most of any outdoor living space this season and beyond. Here's an impressive DIY project to inspire you, from Carla Isolano (@houseofbeau13). Carla's patio space was nicely sized, but a little dreary. "The whole area was in some serious need of TLC," Carla says. "The bricks were full of weeds, and they were uneven and mismatched."
Plus, she adds, there was a cellar hatch that was "rotting away" and the adjacent brick wall was full of cobbled-together pieces thanks to old doorways that had been closed off. "It was all an unsightly mismatched mess," Carla says.
"The idea had always been that we would use this space as an outdoor dining area," Carla says. She had the idea to create a pergola over the space that would both shade the area and help camouflage some of the things they were unable to change, like the mismatched brick wall.
As for the brick patio, Carla covered it up with a wood deck. She included a new hinged cellar hatch in her design, which blends in with the rest of the deck so it looks like one seamless floor. Making sure the cellar door opened and closed easily was crucial since that's where the family stores their wood for their fireplace.
The pergola itself has a black-painted frame and is lined with slats that are stained to match the deck. Carla also built a shiplap-look cover for the breeze block wall on the left side of the deck; painted black, it looks like an intentional feature and not a design trick.
Carla was able to save on labor by DIYing the job, so her total cost was just for materials and rang up to about £1600 ($2232).
READ MORE…
Original source: https://www.apartmenttherapy.com/patio-deck-redo-modern-black-wood-pergola-36884130?utm_source=RSS&utm_medium=feed&utm_campaign=Category%2FChannel%3A+main